Welcome to Paradise!
It is a pleasure of the staff, management, and owners of SunBreeze Suites to welcome you to San Pedro, "La Isla Bonita", where we always endeavour to receive you with our warm, friendly, courteous, and efficient hospitality and service.
Our country is described as the "Jewel of Central America" for a very good reason. Belize offers world-class diving, with its incredulous Blue Hole, three atolls, and the longest living barrier reef in the world.  With our Hol Chan Marine Reserve and Shark Ray Alley, you can swim with nurse sharks and stingrays.  For the adventurous, there is also the countless Mayan Cities, Bird Watching, Cave Systems, Rain Forests, and Reserves to explore.
The SunBreeze Suites, a member of Belize Vacation Partners, part of four magnificent properties in Belize, along with our sister property,  SunBreeze Hotel;, Belize Biltmore Plaza Hotel in Belize City and Hidden Valley Inn & Reserve in the Mayan Mountain of San Ignacio, offers you the advantage of experiencing from the comfort of civilization, this beautiful jewel of ours.
We are actively promoting sustainable tourism and we have implemented some initiatives to promote our efforts. Inside our room, you will find signs of our current practices such as linen and towel re-use program, and water and electricity conservation program. We invite you to participate in these initiatives.
We thank you for choosing to stay with us and trust that you will have a memorable experience and an enjoyable stay.
Julia Edwards,
General Manager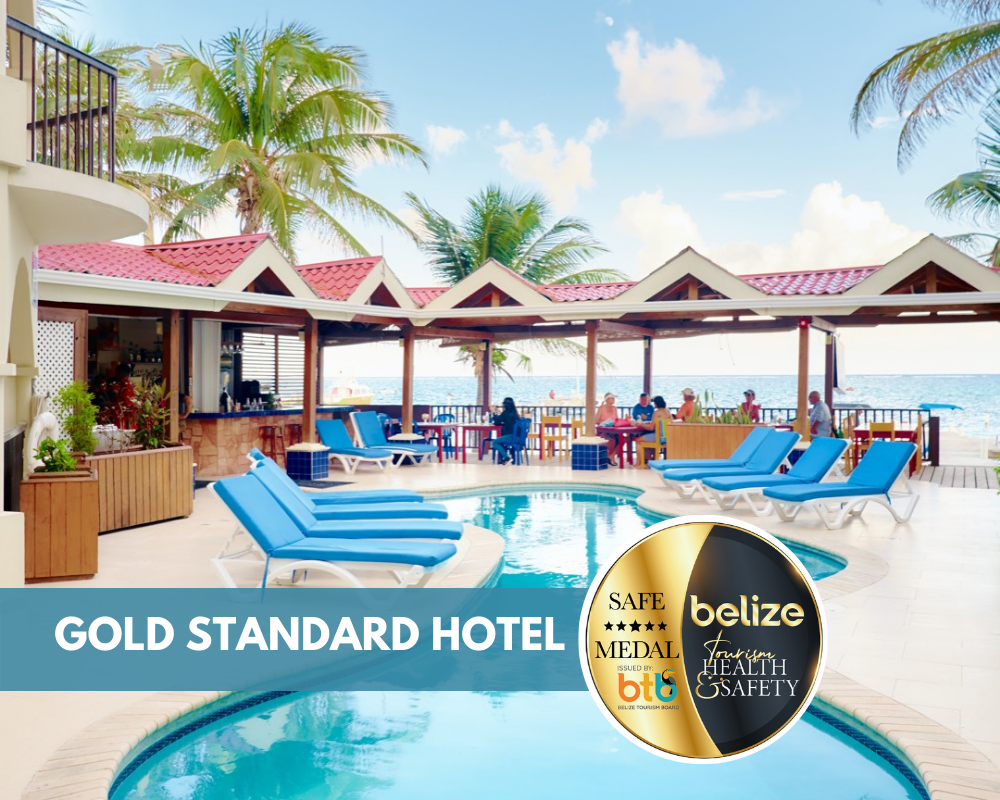 We thank you for choosing to visit Belize and to stay with us at the SunBreeze Hotel – a Gold Standard Certified Hotel.
We welcome you with our warm Belizean Hospitality. As we continue to ensure the health, safety, and well-being of our guests and employees. During these past few months, we have prepared to meet and exceed the requirements of the standard set out by the Belize Tourism Board hotel and tour operators Tourism Gold Standard Certificate. We have carried out extensive training with our employees to enhance the cleaning and sanitation throughout the property including our partners at the Thephany Spa, Ambergris Divers, and Jambel's  Restaurant.
A program manager whose responsibility will ensure that collectively we adhere to the health and safety plan that was developed for the property.
Wellness check by taking the temperature of all employees before commencing work and guests will have their temperature taken at check-in and periodically thereafter. With temperature exceeding 37°C we will be required to report to the Ministry of Health in order that they may provide us with instructions.
All guests are responsible to cover their expenses for medical attention, transfer to and from the medical facility, and if quarantine is required.
Physical distancing 6 feet apart is being enforced for employees and guests where possible. Unless you are a family traveling together you will be excused.
 
All public areas have procedures implemented to have high touch areas and spaces sanitized and disinfected regularly.
Our guest rooms have trained employees to pay attention to high touch areas and items such as TV remotes, A/C remotes, telephones, etc. Your room will have been fully cleaned, disinfected, and sanitized before your arrival. A Gold Standard Card will be hanging on your door supporting that all GSC cleaning standards are met. Guest rooms are serviced every other day. Additional towels are provided and extra linen available on request.
Employees have been provided with personal protective equipment such as a face mask, face shield, rubber gloves, and all other PPE's needed to be safe and to make sure you too are safe. All guests will be required to wear a face mask while in public spaces
Sanitizing stations have been established in strategic areas available for all employees and guests.
We have minimized the need for physical contact at check-in such as requesting guests to pre-register by providing us the information required and by being able to make online payments at checkout.
During your Stay at SunBreeze Suites:
While in-country facemasks are mandatory in all public spaces, and you are expected to practice social distancing and proper hand hygiene to protect yourself and others you come in contact with.
Tourists are to reserve and stay only at Gold Standard hotels. SunBreeze Suites is a Gold Standard Approved hotel. 
The Safe Corridor for tourists has been expanded to include all Gold Standard and Certified entities including hotels, tour operators, restaurants, tourism sites, gift shops, car rentals, and taxis. Tourists can therefore move around freely but are highly encouraged to remain within the safe corridor by visiting and using only those entities that are Gold Standard Certified and the certification is displayed and clearly visible.   
Please let us know what your interests are and we will gladly arrange these tours for you with an approved operator.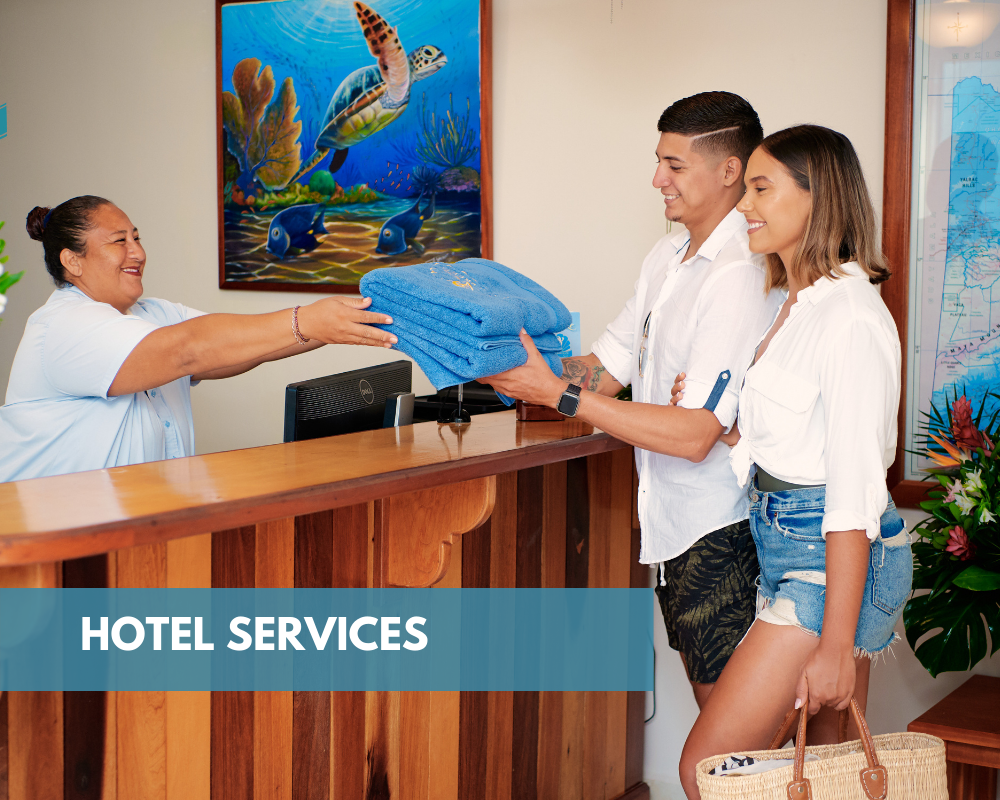 Bar & Grill
Opens from 7:00 am to 9:00 pm daily.
Babysitting
Notice required 24 hours in advance. Check at the Front Desk for rates.
Bellman Service
At your service from 7:00am to 6:00pm Dial "0"
Cash Exchange
Limited exchange is available at the Front Desk.
Check Out Time
11:00am Charges will apply for late check out. Late check out only possible if approved
Credit Cards
We accept American Express, Discover, Visa and Master Card.
Dive Shop
Offsite Ambergris Divers at SunBreeze Hotel Opens from 8:00am – 5:00pm.   Direct extension available at hotel front desk or call direct – Dial 0     
Electrical Current
110 Volts – 60 Cycles
Email
Only incoming service available. Charges apply for print outs. Send e-mail to resv_aqua@btl.net
Fax / Photocopy
Available at the Front Desk. Charges apply for photocopies and incoming faxes.
Flight Reconfirmation
The Front Desk Staff can reconfirm your local flights.
Telephone charges will apply. The Front Desk can also book your local flights.
Golf Cart Rentals
Dial "0" for price and availability
Housekeeping
For additional towels, blanket, pillow etc. Dial "0"
Key Drop
During Opening Hours, key drop box located at the front desk to leave.
This will be sanitized and available on your return.
Iron and Board
Available at the Front Desk at no charge.
Laundry
Laundry bags and price lists are located in the closets.
Maid Service
Conducted between 8:30am and 4:00pm during pandemic every 3 days. Guest must vacate room for service to be provided. 
Lost and Found
Dial "0" or check at the Front Desk
Lost or Missing Luggage
The Front Desk Staff can follow up on this. Telephone charges will apply
Massage Studio
Located in the front of hotel. Open from 9am to 5:00pm. By appointment only.
Medical Attention
Doctor on call 24 hours a day. For assistance Dial "0"
Payment Form
US Cash and Credit Cards. No Personal Cheques accepted.
Secure online link not available for American Express.
Pool
Open from 7:00am daily. No life guard. Only for Registered Guests use. 
Pool Towels
Exchange dirty for clean at the Front Desk.
Restaurant
Open from 7am to 9pm daily. Dial '1008'.
Reservations
We can make reservations for you at our sister hotels – Belize Biltmore Plaza in Belize city and Hidden Valley Inn in Cayo District.
We are also associated with hotels in Guatemala from Camino Real Corporation.
Room Service
Available from 8:00 am to 6:00 pm. 
Safety Deposit
Available inside the room. For assistance dial "0"
Taxis
Gold Standard Approved Taxis to be used only. Available at the main entrance of the hotel. 
Tours
The Front Desk Staff can arrange day trips to mainland Belize along with a variety of island activities with an approved Gold Standard tour operator.
Trips info within directory and also the Tour's Board at the Front Desk. Dial "0" for prices and inquire
TV Listing
Press the EPG button on the TV remote control to view the TV Channel Listing. This button is located below the Green Button (SUB-T)
Wake Up Call
Dial "0" to make your Wake up call request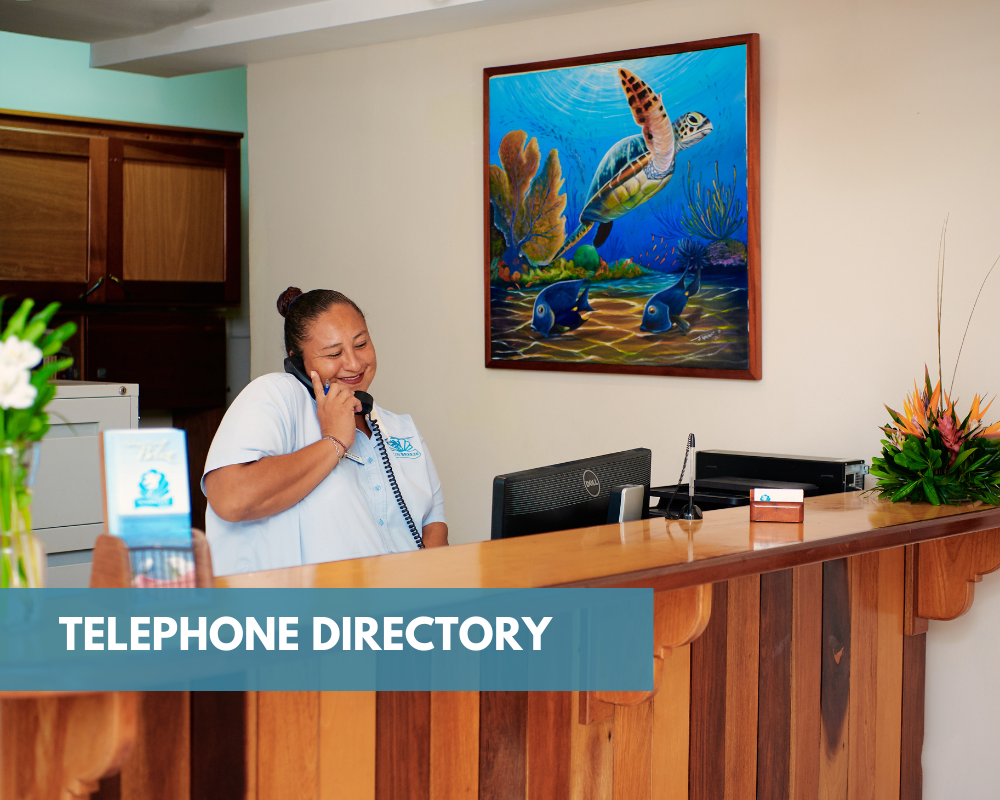 Police 911/ 206-2022
Fire911/ 206-2372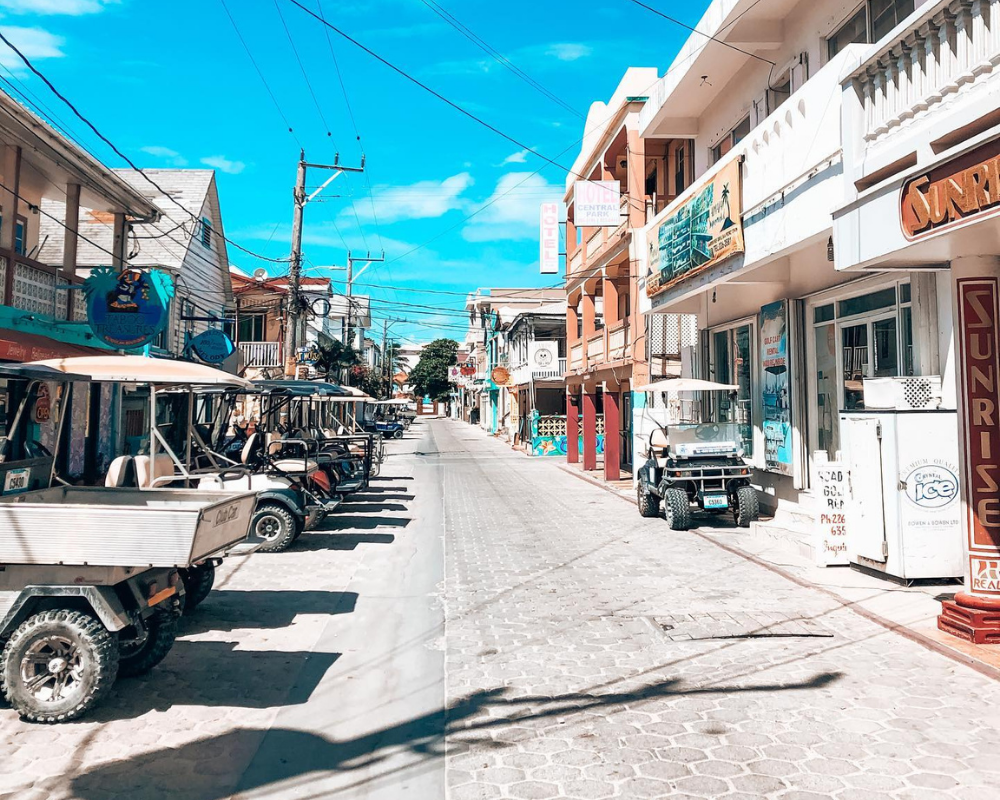 MEDICAL SERVICES

DIAL

Ambergris Hope

226-2660

Belize Medical Associates

226-2262

Chiropractor Dr. David Arnold

634-0723

Dr. Lerida Rodriguez

226-3197/2197

Dr. Otto Rodrigues Polyclinic

226-2536 
24 Hours Emergency 660-2871

Flu Clinic (SP Polyclinic)

226-2536
24 Hours Emergency 671-0911 (Covid19)

Hyperbaric Chamber

226-2851/2854

Public Health (SP Polyclinic)

226-2555

San Carlos Medical

226-2918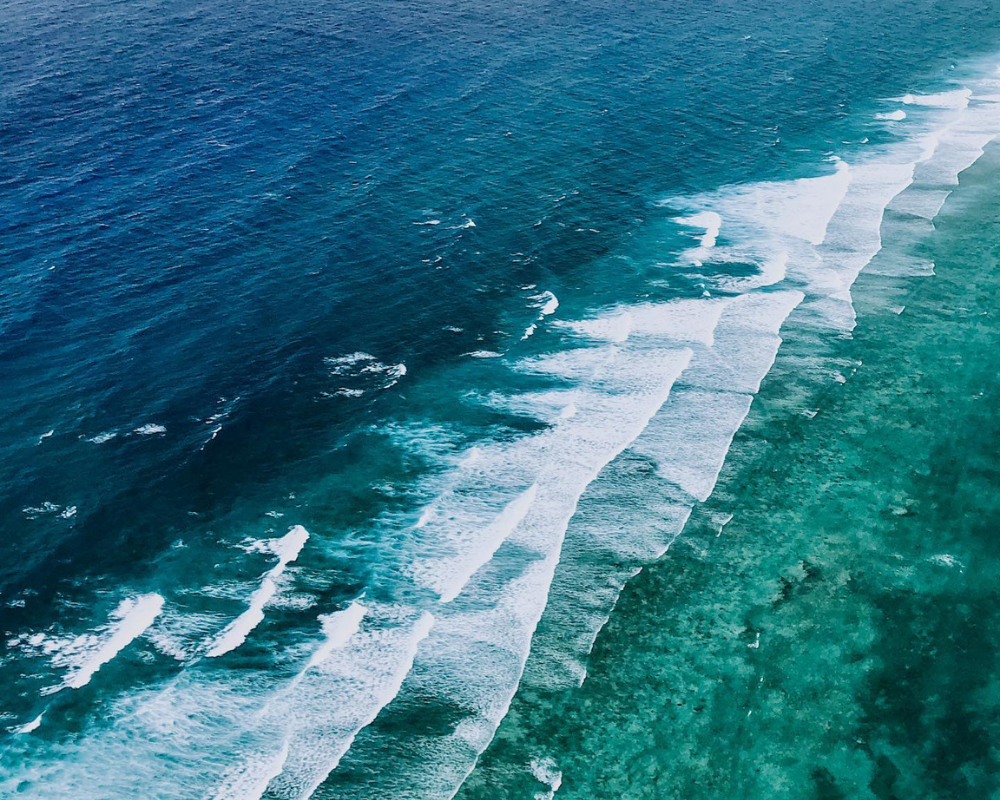 Maya Island Air
San Pedro 226- 2560 
Belize City  223-1140
Tropic Air
San Pedro 226- 2012
Belize City  224-5671
American Airlines:  223 – 2522 / 2523                
Avianco Airlines:  225 – 2163/2454
Delta Airlines:   225 – 2010/3423
Copa Airlines/Avianca:   225-2163
International Airport:   225 – 2045
United Airlines:  227- 1472/225-2263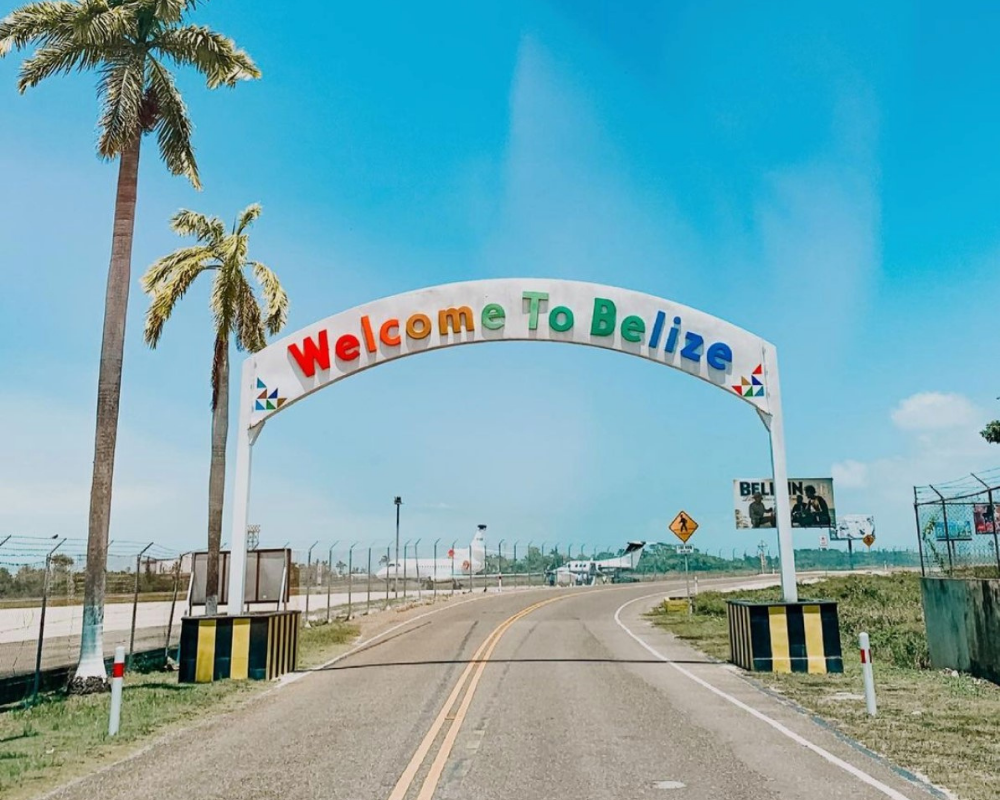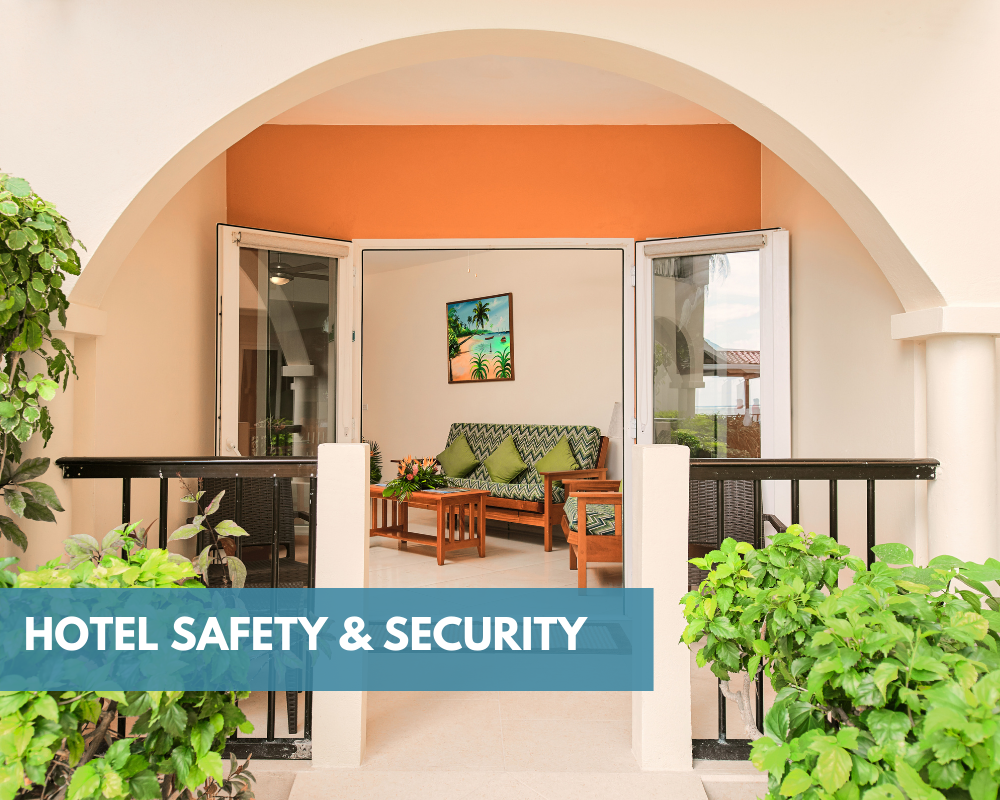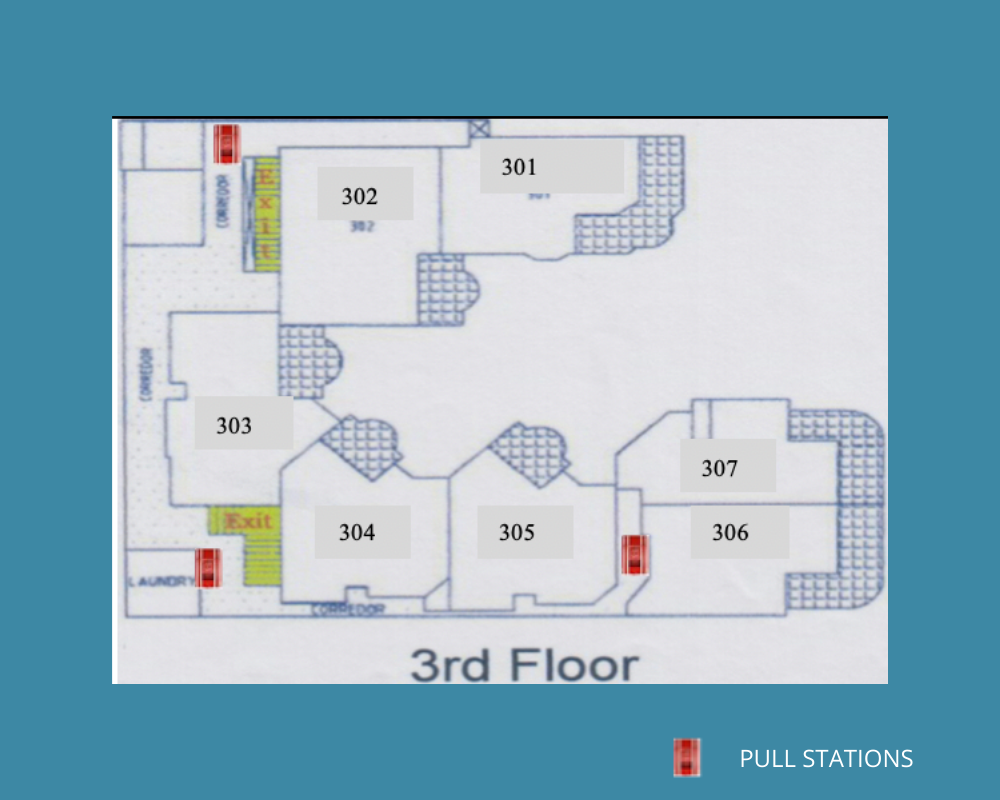 FIRE AND HURRICANE SAFETY
To stimulate our guests to develop good security habits, management suggest the following:
BE PREPARED:
Take note of fire extinguisher systems, theses are located at intervals between guests rooms.
Know how to use the air conditioner, especially to turn off.
WE HAVE SMOKE DETECTORS IN EACH ROOM, IF IT SHOULD SOUND;
PROCEED:
If you are certain there is a fire, immediately call the operator by dialing '0'.
Immediately leave the room and ensure you close the door behind you.
Keep yourself below smoke level.
STAY ALIVE:
If you are unable to leave your room, turn off all electrical supply.  Fill the sinks and bath with water.  Wet your bed sheets, seal the doors tightly, and cover all crevices which might let smoke in.  Keep yourself as low as possible to avoid smoke inhalation.  Place a wet cloth over your nose and mouth.
KEEP CALM!
HURRICANE SAFETY
In the event of a hurricane and law requires it, you will be given instructions accordingly. Management will keep you informed. If imminent threat is to San Pedro, we relocate our guests to Belize City.
DOOR SECURITY
Please ensure when leaving your suite, your door is securely locked.
ENTRANCE
Main entrance door is closed every night by 9:00pm.  Please use the entrance from the beach to the property. 
KEYS
Since the office is closed from 7:00pm daily, please ensure you keep your keys safe while out thus ensuring maximum security of your unit.  In the event of a key being lost, the cost is US $30.00 per lock.
SECURITY DEPOSIT
The hotel has security deposit available inside the room to secure your valuables.  We recommend that you leave your jewelry, important documents and any excessive money in your box.  In the event of a key being lost, the cost is US $75.00.
SECURITY DOOR BAR
Door security bars are provided in all our rooms, for your added security & safety we recommend you use them while in your units.
USE OF BALCONY
For guest on the ground floor and second floor, please be advised that we strongly recommend once dusk sets in, you retrieve any of your personal items, from outside of your unit.
VISITORS
In the best interest of your Safety and Security, visitors not allowed in our guests rooms. We do not allow unregistered guest in our rooms.
WINDOWS
Please ensure when leaving your room, your bedroom window is securely locked.
VISITORS
In the best interest of your Safety and Security, visitors are not allowed in our guests' rooms. We do not allow unregistered guests in our units.
LEAVING THE PROPERTY—COVID-19
Tourists are highly encouraged to remain within the safe corridor by visiting and using only those entities that are Gold Standard Certified and the certification is displayed and clearly visible. We ask guests to be aware of surrounding when venturing on the island.