Belize has been named one of the top destinations to visit in 2023, and it's not hard to see why. With its mesmerizing natural beauty, rich cultural heritage, and friendly people, Belize is a true gem in the Caribbean. From its verdant jungles and pristine beaches to its ancient Maya cities and vibrant coral reefs, Belize has something to offer for every type of traveler.
Ambergris Caye, Belize's Ultimate Tropical Destination 
Ambergris Caye, in particular, is a must-visit destination for those looking to experience the best of Belize. This stunning island is known for its crystal-clear waters, white sandy beaches, and close proximity to the Belize Barrier Reef, making it a popular destination for water sports enthusiasts and beach lovers. In addition, the island is home to a variety of shops, restaurants, and bars, offering travelers a true taste of Belizean culture and hospitality.
Getting to Belize in 2023 has never been easier, with several major airlines offering direct flights to the country. Whether you're flying from the US, Canada, or Europe, you can easily reach Belize in just a few hours. Once you arrive, getting to Ambergris Caye is a breeze, with several options available, including water taxis or local airlines such as Tropic Air or Maya Island Air.
With its beautiful beaches, turquoise waters, and lush vegetation, Ambergris Caye is the perfect tropical escape, and SunBreeze Suites is the perfect place to experience it all. This idyllic resort is ideal for those seeking a relaxing and rejuvenating vacation.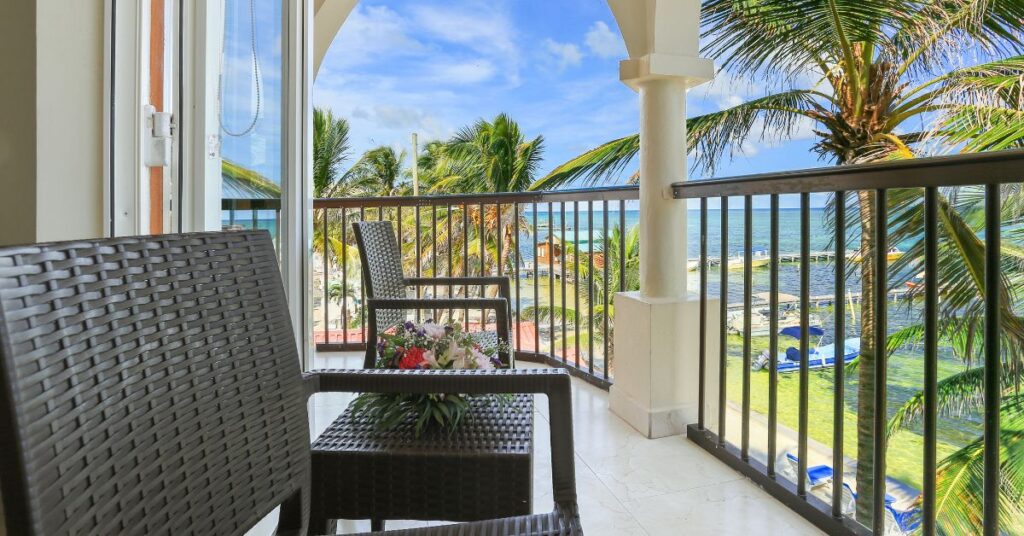 SunBreeze Suites offers 21 intimate and spacious suites with private balconies. With a choice of Ocean Front, Ocean View, or Pool View suites, each one offers breathtaking tropical views and the perfect escape from the hustle and bustle of everyday life. As you gaze out at the turquoise waters of the Belize Barrier Reef, relaxation comes effortlessly.
At night, enjoy a tropical breeze and moonlit skies from your private balcony. The suites are designed with comfort and convenience in mind, offering all the modern amenities a traveler needs. Perfect for couples, families, or friends traveling together, SunBreeze Suites' beachfront location in the heart of San Pedro makes it the ideal choice for those looking to embrace a true Belizean experience.
In addition, SunBreeze Suites offers guests a wide range of activities and attractions to enjoy during their stay. Whether you're looking to explore the crystal-clear waters of the Caribbean or venture out on land, there's something for everyone.
For water enthusiasts, the resort offers a variety of water sports, including snorkeling, scuba diving, and fishing. Immerse yourself in the rich marine life and awe-inspiring beauty of the Belize Barrier Reef.
For those who prefer to venture on land, SunBreeze Suites' tour desk can arrange a range of exciting excursions and activities. Experience the thrill of zip lining, the adventure of cave tubing, or the cultural significance of visiting the ancient Maya Site of Lamanai. With so much to see and do, guests are sure to have an unforgettable vacation at SunBreeze Suites.
Savor the Flavors of Belize at Jambels Restaurant 
Food is one of the best ways to experience the culture of a destination and Belize is no exception. With its stunning natural beauty and unique cuisine, Belize offers a culinary experience like no other. At SunBreeze Suites, guests can enjoy a fusion of Belize's signature flavors at Jambels, the resort's beachfront restaurant. From fresh seafood to traditional dishes, Jambels offers a taste of the best of Belizean cuisine.
Discover the Perfect Belize Vacation Package for You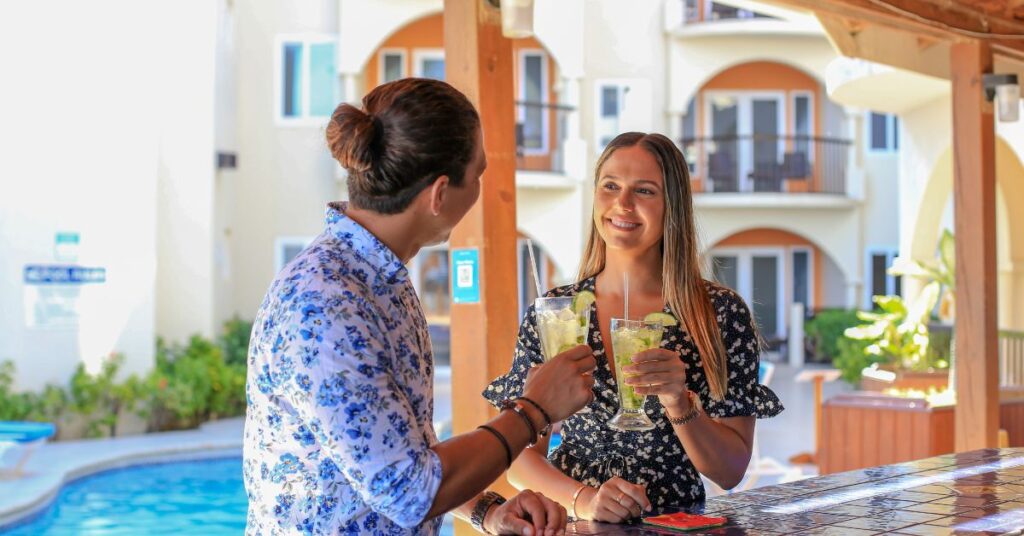 SunBreeze Suites offers a range of vacation packages, each designed to cater to the unique needs and interests of every traveler. Whether you're seeking a romantic getaway, a family-friendly adventure, or a thrilling escape, the resort has a package that's perfect for you.
The packages include an array of activities and attractions, from snorkeling and scuba diving, to fishing and horseback riding. With these experiences, guests can fully immerse themselves in the beauty and diversity of Belize.
For a comprehensive and unforgettable Belizean adventure, consider the 7 Nights Best of Belize Package. This package offers guests the opportunity to experience the best of what the country has to offer. From its breathtaking natural wonders to its rich cultural traditions. With exciting excursions like cave tubing, zip lining, and wildlife watching, as well as snorkeling, scuba diving, fishing, and visits to ancient Maya ruins, the 7 Nights Best of Belize Package is the ultimate way to discover the splendor and eclecticism of this amazing country.
SunBreeze Suites is a remarkable resort that provides guests with a one-of-a-kind tropical escape. Boasting luxurious suites, a breathtaking beachfront location, and a plethora of activities and attractions, this resort is the ideal place for those seeking a relaxing and rejuvenating getaway. Whether you're looking to flee the fast-paced city life or simply immerse yourself in a tropical paradise, SunBreeze Suites is the ultimate destination.
Original Article by Caribbean Lifestyle Belize