Belize offers some of the Caribbean's most beautiful landscapes both above and below its crystal waters. Below the surface, Belize is a mecca for snorkeling and diving with its superior underwater scene. The Belize Barrier Reef hugs the countries coastline, making it a destination with plenty marine treasures.  The waters around the reef are protected by reserves and sanctuaries, making for a vibrant underwater world. With roughly 100 coral species, 500 species of fish, there is so much to see. Whether you're seeking the best snorkelling grom the beach or from an offshore excursion Belize has you covered. From Ambergris Caye, the Belize Barrier Reef is less than a mile from shore allowing for the best snorkeling being a short boat ride away.
Best Snorkeling Hot Spots from Ambergris Caye
Hol Chan Marine Reserve: A short boat ride away, this marine reserve is the most popular snorkel site from Ambergris Caye. Over 160 species of fish have been identified in the reserve, along with nearly 40 species of corals, 5 sponges, 8 algae's, 2 sea grasses, 3 marine mammals and 3 species of sea turtle. Choose to snorkel this reserve in the day or at night.
Mexico rocks: Mexico Rocks is a superb Patch Reef, which lies half way between the reef and shore. It is a great half day snorkel spot North of the island. With the water depth roughly 6 to 12 feet  this snorkel site allow for great visibility. Colourful coral patches create miniature under sea habitats for Spiny Lobster and Yellow Tail and other  schools of fish.
Caye Caulker Marine Reserve:  Declared a marine reserve in 1998, the 61-sq-mile Caye Caulker Marine Reserve is a less crowded snorkel site to visit situated in from of Ambegris Caye's neighbouring island Caye Caulker. Coral Gardens is a favorite snorkeling site, known for bright varieties of ocean life including sea fans, brain corals, and plate corals. Between April and September, snorkelers  can even has the chance spot a turtle or a manatee. A catamaran  sail and snorkel with our onsite dive operations includes a stop at this reserve.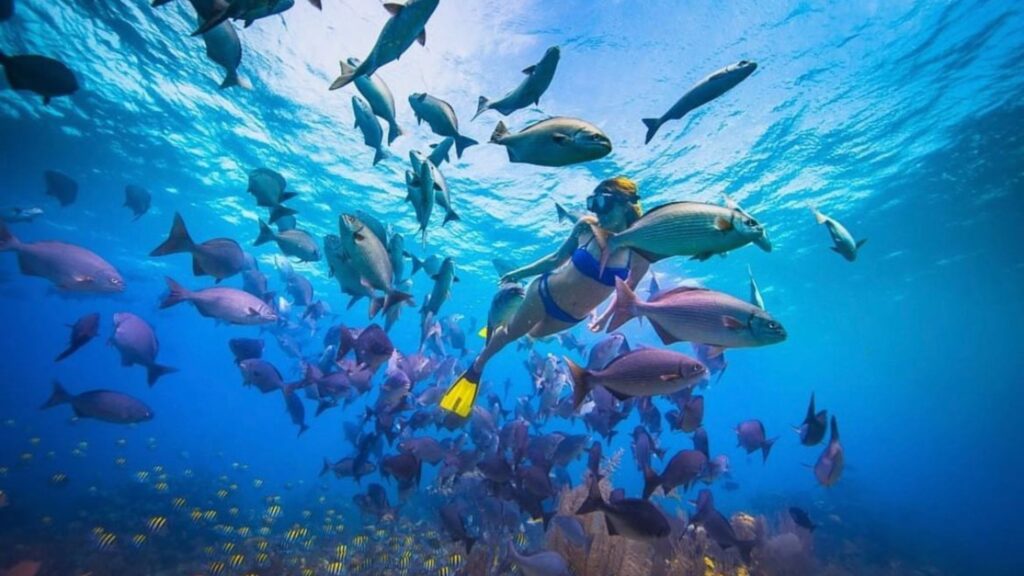 Your vacation in the Belize wouldn't be complete without a snorkeling adventure.