Ambergris Caye places second for Travel + Leisure's " 5 Best  Islands In Mexico, Central and South America" for 2022. Every year, Travel + Leisure asks readers to weigh in on travel experiences around the globe.  T+L asks readers to weigh in on travel experiences around the globe — to share their opinions on the top cities, islands, cruise ships, spas, airlines, and more. Readers rated islands according to their activities and sights, natural attractions and beaches, food, friendliness, and overall value.
This year the beautiful islands of Ambergris Caye in  Belize ranked as top favourite placing 2nd  with a score of 84.31 
The article highlights the island being loved for sandy shores and amazing marine adventures. 
Ambergris Caye, in Belize, made this year's rankings at No. 2. The long, narrow barrier island is known as the place to see the Great Blue Hole — a 406-foot-deep, 1,000-foot-wide marine sinkhole that looks like an enormous blue circle that can be seen from space. Scientists predict it won't be around forever, so diving enthusiasts would do well to visit sooner rather than later.
Read full article HERE
Vacationing on Ambergris Caye with SunBreeze Suites
Beauty greets you at every turn at SunBreeze Suites – located on the beach front of Ambegris Caye the resort allows for breathtaking views of the Caribbean Sea.  Overlooking the largest barrier reef in the Western Hemisphere, SunBreeze Suites offers 20 one-bedroom spacious suites, each offering a fully equipped kitchen, living and dining room, private bedroom, private bath, and private balconies with stunning views!  Whether you are traveling alone, as a family, honeymooning, or coming on a dive vacation, SunBreeze Suites is the place to be. Staying on the island beachfront is a very relaxed place to be. When not taking in the view of the sea from your private balcony, make the Belize Barrier Reef your playground. There is amazing diving and snorkeling sites about half of a mile from the seashore.
For your scuba diving and snorkelling needs, we are affiliated with PADI Dive operator Ambergris Divers. Perhaps the most attractive feature of Belize is its diversity. Not only home to some of the most pristine protected reef systems, on the mainland of Belize you can find expansive lush jungle teeming with wildlife making it a virtual playground for those seeking adventure. SunBreeze Suites packages include grand adventures. Unleash your inner explorer when you choose to vacation under our Dive, Snorkel, Adventure and Romance Packages.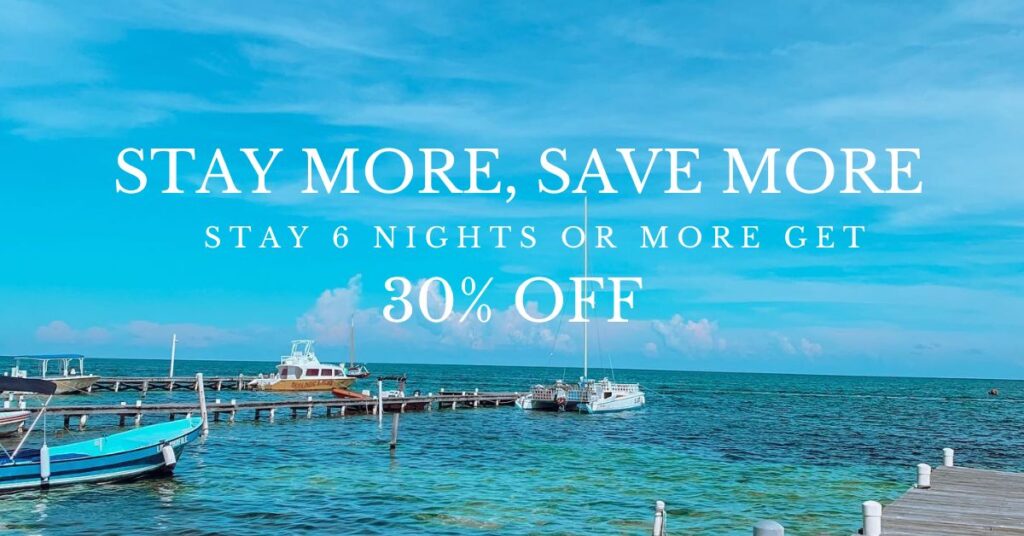 Take advantage of our current Stay More and Save More offer. Book a stay at SunBreeze Suites for 6 nights or more and get up to 30% off.  Offer valid on new bookings for travel now until October 2022. BOOK DIRECT