Located on the beachfront in the heart of San Pedro town, Sunbreeze Suites is the perfect base for your Ambergris Caye stay. Spacious suite style accommodations make the resort your home away from home. As the hotel beckons you to stay longer, we share the perfect 5 nights, 6 day itinerary at Sunbreeze Suites to discover the best of Ambergris Caye and Belize. From snorkeling Belize's pristine and vibrant barrier reef to exploring ancient Maya Sites tucked away in Belize's jungle, here is how you can spend your time in Belize and experience the best of both worlds.
Day 1
It's your first day at Ambergris Caye so get acquainted with the island. A short walk from the hotel is San Pedro Town.  Once a sleepy fishing village, Ambergris is now a bustling island. The town of San Pedro is at its heart. Make sure to walk down the lively main street, filled with restaurants, bars and local shops. Looking to venture further than you can walk rent a golf cart and explore the island! This is the chosen mode of transport on the island, and tells a lot about the laid back life on the island.
Day 2
Home to the second largest Barrier Reef and ranked as one of the best places to dive or snorkel in the world, this one activity that you must not miss out on! The hotel is in close proximity to the Belize Barrier Reef which is found less than a mile from shore. Spend your day on a  half day snorkel of Hol Chan Marine Reserve. Hol Chan Marine Reserve and Shark Ray Alley are famous for their clear waters and the many fish that congregate there. You'll spot an incredible array of sea creatures including barracudas, stingrays, nurse sharks and sea turtles.  Just South of San Pedro Ambergris Caye, this reserve is a top snorkeler's destination and a must-see for any lover of the ocean.
Day 3
Today it's time to head inland on an jungle excursions. Choose to cave tube and zipline or visit an ancient Maya site. Belize's vast underground cave systems is worth exploring. Explore the underworld of the Maya as you float in inner tubes through Belize's cave system taking you on a an expedition through time and history. Adventure doesn't end there as you will fly through jungle treetops on a zipline tour.  Looking for a  less exhilarating tour explore the ancient Maya Site of Lamanai. Start your journey on a river cruise spotting wildlife. Hidden in the forest near Belize's largest freshwater lagoon lies Lamanai, a monumental city of the distant past. Boasting 700 mapped Maya structures it is one of most impressive sites in Belize.
Day 04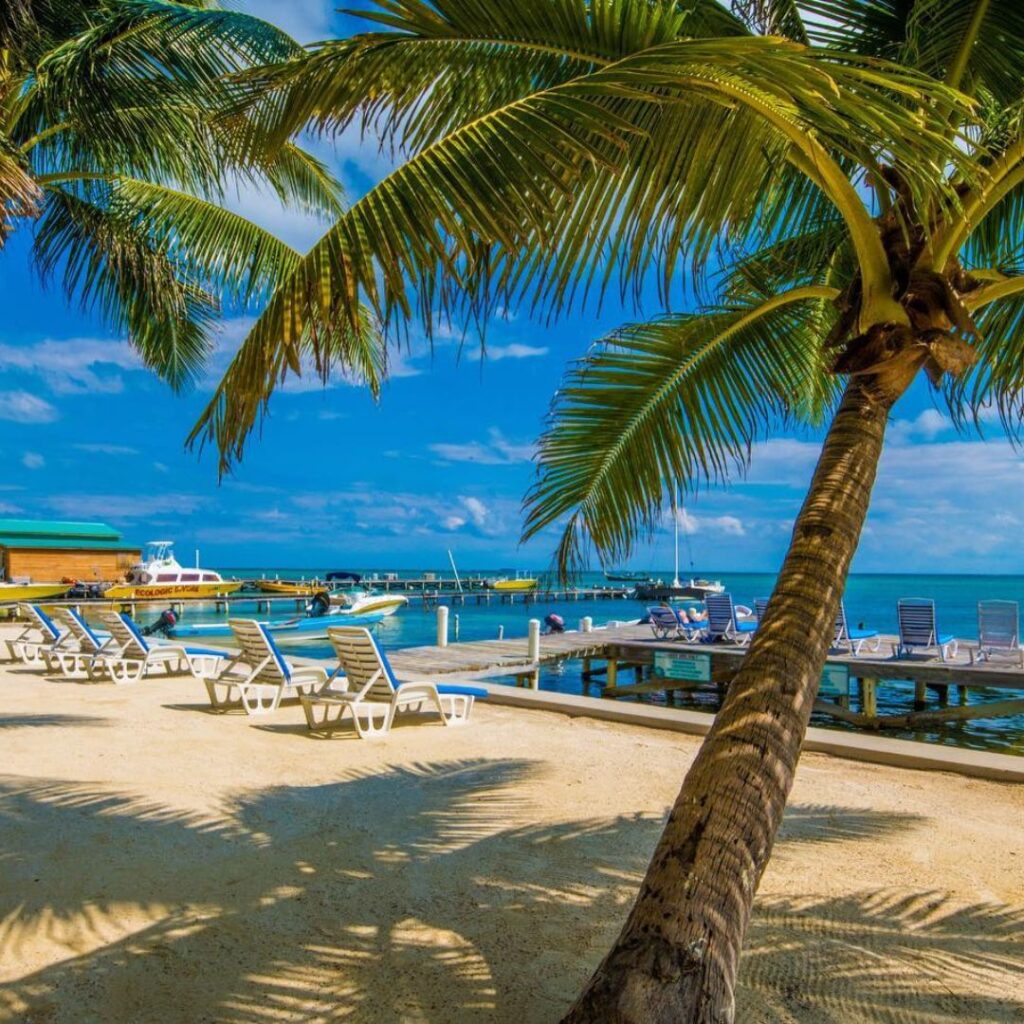 Today is all about lounging. The resort pier is there perfect place to spend the day relaxing with a cocktail in hand or you can venture off property and head north to Secret Beach. At this beautiful beach, you can lounge in the clear turquoise water and soak up the rays on your last full day in paradise. Watch the sun set before returning to the hotel for dinner at Jambels.  The on-site restaurant is one of the best on the island, particularly for Jamaican Cuisine! Beachside, the views are also great from here. Watch the world go whilst enjoying delicious food and drinks.
Day 05 
Its' you're last day to enjoy the property. Surrounded by swaying palm trees and with views of the Caribbean Sea and beach, you will find it hard to leave your lounge chair today. Wake up to the sunrise from your private balcony and enjoy some Belizean fry Jacks to kick start the morning. End your vacation with some pampering with a massage treatment beachside.
Day 06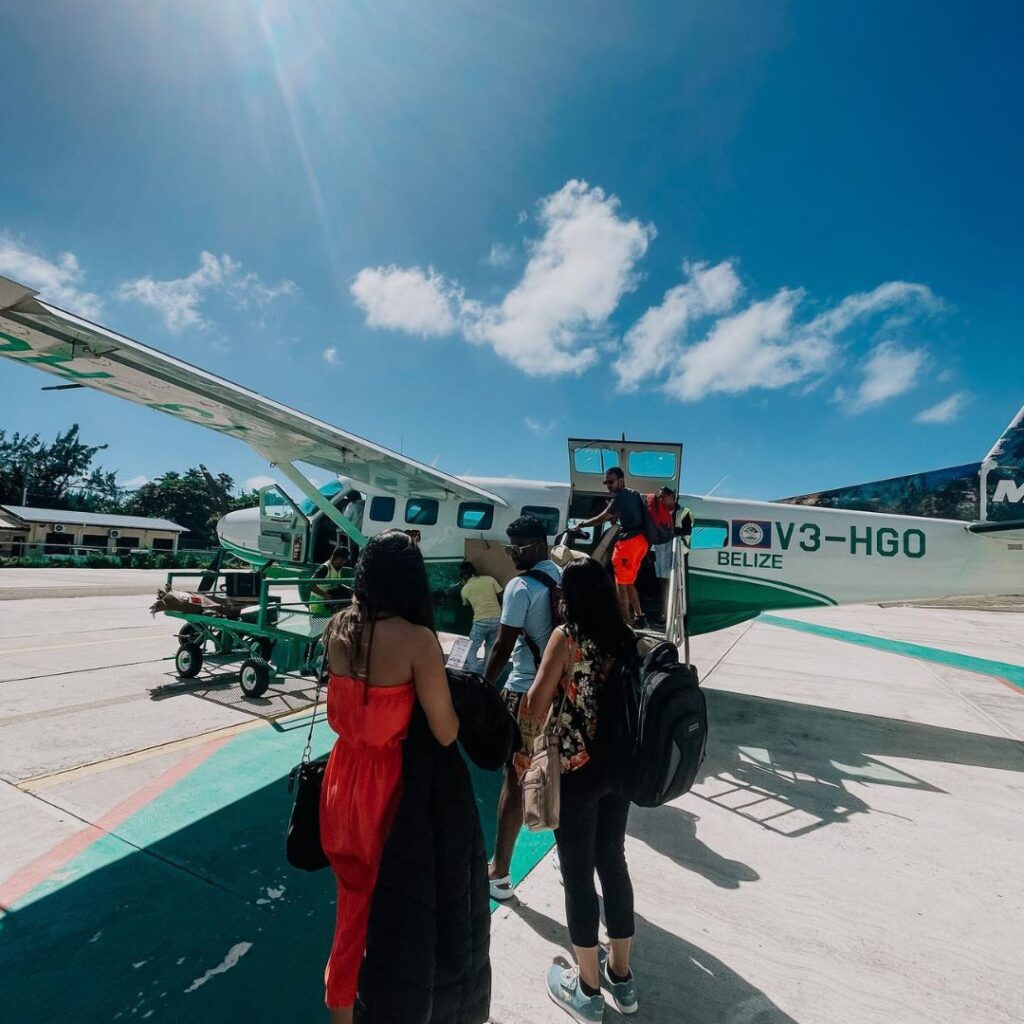 Your vacation ends with a scenic 15 minute flight back to Belize International airport which is the quickest way to get  back to Belize International airport for your international flight.
Enjoy the above itinerary when you book our 5 night Adventure Package
5 NIGHT PACKAGE US $1880 per couple
5 night stay in a Oceanview suite
A Full Day Trip to Cave Tube and Zipline or Lamanai Maya Site
2 1/2 hour Snorkel Trip to Hol Chan  & Shark Ray Alley Marine Reserves
(Snorkel Equipment or Marine Park Fee not included)