Sunshine, sandy beaches and crystal-clear waters as well as an array of various adventures beacon those looking to unwind and get away for some time alone. Belize is idyllic for a romantic getaway or just a vacation away to a beautiful place to bond together and spend quality time as a couple.
SunBreeze Suites offers 21 intimate and spacious suites with private balconies. With a choice of Ocean Front, Ocean View, or Pool View suites, each one offers breathtaking tropical views and the perfect escape from the hustle and bustle of everyday life. As you gaze out at the turquoise waters of the Belize Barrier Reef, relaxation comes effortlessly.  At night, enjoy a tropical breeze and moonlit skies from your private balcony.  Here are some ideas on how you can spend your time together in Belize for your next vacation as a couple.
Couples with an appreciation for nature
For water enthusiasts, the resort offers a variety of water sports, including snorkeling, scuba diving, and fishing. Immerse yourself in the rich marine life and awe-inspiring beauty of the Belize Barrier Reef, which is located less than a mile from shore.  The Belize Barrier Reef is a UNESCO World Heritage Site that is home to 450 species of marine life. Get your heats racing together on a snorkel trip. Choose to snorkel with sharks and rays at Hol Chan Marine Reserve or visit Mexico Rocks, a hidden gem for snorkeling. Just north of the vibrant town of Ambergris Caye lies a patch of shallow reef offering a smorgasbord of marine life.  Enjoy a short boat ride to dive in and swim alongside coral head formations, moray eels, docile nurse sharks, and friendly stingrays.
Couples who love food & culture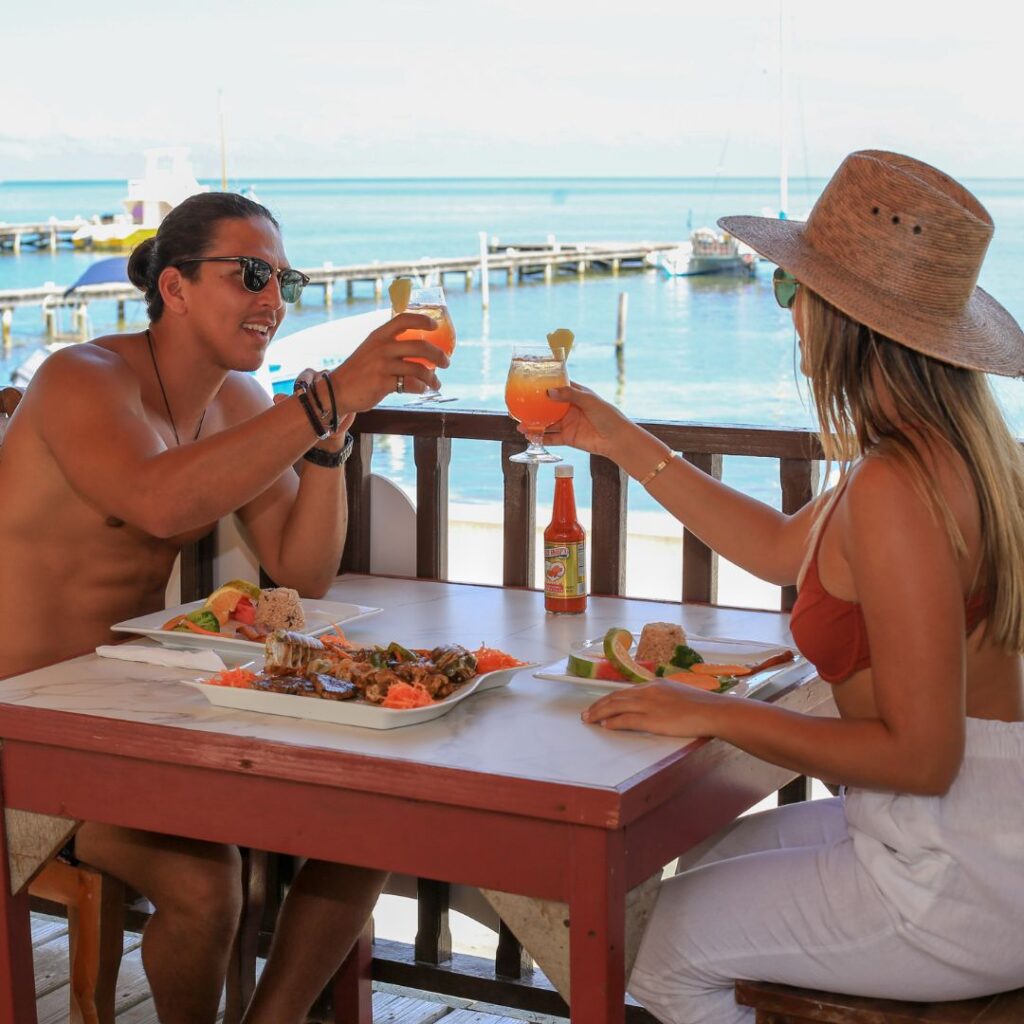 Food is one of the best ways to experience the culture of a destination and Belize is no exception. With its stunning natural beauty and unique cuisine, Belize offers a culinary experience like no other. At SunBreeze Suites, you can enjoy a fusion of Belize's signature flavors at Jambels, the resort's beachfront restaurant. From fresh seafood to traditional dishes, Jambels offers a taste of the best of Belizean cuisine. Looking in getting some steps in over dinner, enjoy a walking food dinner tour stopping in at different restaurants throughout the night.
Couple who love the outdoors and adventure
Although you'll be on an island you can easily enjoy some thrilling jungle adventuers found on mainland. Belize has both a diverse cultural history and a rich ecosystem that makes it one of the most unique and amazing places to visit. Leisurely float through amazing cave systems in an inner tube and bump up the adventure level by ziplining  through the treetops in exhilaration on a full day tour to the mainland.
Romantic Retreat
Find paradise together on a trip to Belize