Getting married is one of the most exciting moments in our lives, and the honeymoon that follows is the icing on the cake. However, planning a honeymoon can also be stressful as costs can easily add up. Fortunately, Ambergris Caye offers a haven of romance, comfort, and adventure at prices that won't burst your budget.
Condé Nast Traveler highlights Ambergris Caye,  Belize as an affordable honeymoon destinations you might not have thought of yet. Article reads:
Ambergris Caye, Belize
Rounding out our list of relatively cheap honeymoon destinations: Belize. If you and your future spouse appreciate action-packed adventures on the water as much as a lazy day lounging on the beach, head to Ambergris Caye. Located near the Belize Barrier Reef, Ambergris Caye is the perfect starting point for snorkeling and scuba diving excursions, especially to the famous dive site known as the Great Blue Hole. The impressive ecosystem is the largest barrier reef in the northern hemisphere and home to a variety of wildlife: seahorses, spotted eagle rays, sea turtles, manatees, and more. You can also try your hand at kitesurfing or relax on a sunset sailing.
Read full article HERE
What to Expect Honeymooning at SunBreeze Suites
Sunbreeze Suites is the ultimate honeymoon resort on Ambergris Caye catering to couples looking to create lasting memories. From stunning sunsets to picturesque sceneries, each day is filled with romantic possibilities. Dive into the crystal-clear waters of the Caribbean Sea with your special someone, or spend a lazy afternoon lounging by the pool as you bask in the tropical sun. The hotel offers a wide range of activities to make your honeymoon unforgettable.
 Intimate Dwellings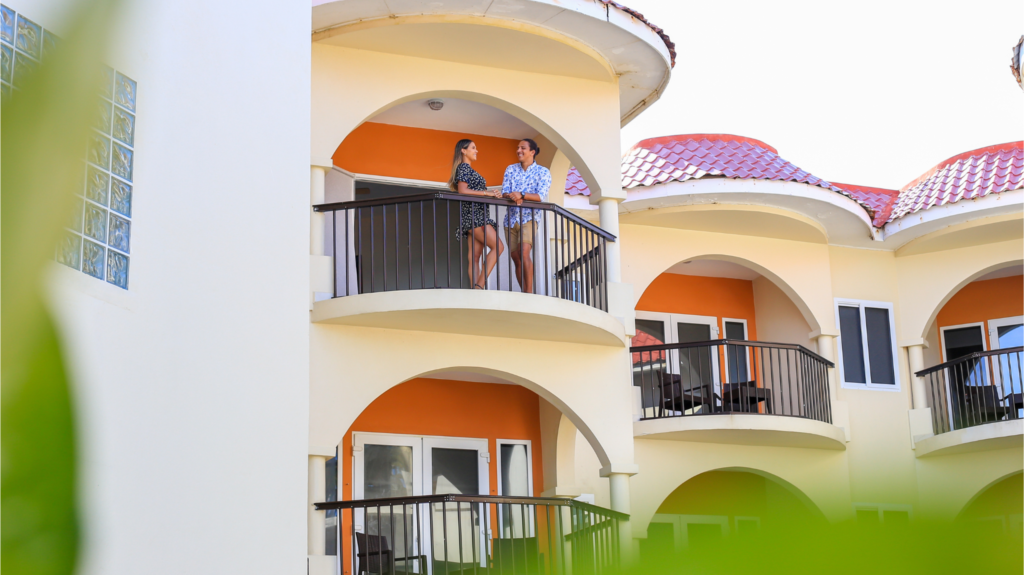 Nothing sets the tone for a romantic honeymoon like comfortable and private dwellings. Relax in a spacious one bedroom suite with ocean-view balconies. Suites feature a king-size bed and premium amenities.
As a newlywed couple, you'll want to savor every moment of your honeymoon. And at Sunbreeze Suites,  that starts with the food. Satisfy your taste buds with mouthwatering dishes prepared with fresh local ingredients. From seafood to Caribbean specialties, the hotel's restaurant offers a diverse menu that caters to every palate. Enjoy your meals with stunning ocean views for an unforgettable dining experience.
Breathtaking Scenery Without the High Cost
Ambergris Caye is known for its stunning aquamarine waters, white sandy beaches, lush tropical vegetation, and magnificent coral reefs that provide breathtaking backdrops for your honeymoon photos. The good news is you can enjoy this scenery without paying for any entrance fees, tickets, or rentals, making it a pocket-friendly yet awe-inspiring destination for any couple. You can enjoy captivating ocean views from  your private balcony or on our deck.
Adventure and Activities for Every Budget
Ambergris Caye is an adventure lover's paradise with plenty of activities including snorkeling, diving, sailing, kayaking, parasailing, and more. Some adventures may be costly, but others, like exploring the local town by cart, and enjoying a sunset cocktail by the beach, are free or affordable activities that help keep expenses at bay.
All in all, Ambergris Caye is a dream destination for any honeymoon couple looking for an affordable as well as a romantic adventure. With turquoise waters, intimate accommodations, and adventures to match every budget, the island offers newlyweds a once-in-a-lifetime romantic experience without breaking the bank.