Nestled off the coast of Belize, Ambergris Caye is a paradise known for its stunning natural beauty, close proximity to the reef and vibrant island culture. Explore what makes Ambergris Caye so unique and why it has become an irresistible destination for travelers.
Ambergris Caye, stretching 25 miles and a little over one-mile-wide, is roughly 35 miles northeast of Belize City. The town of Ambergis Caye is known as San Pedro. San Pedro Town was a fishing village before it became the tourism destination that it is today.  Ambergris Caye stands out as the most developed island in Belize, offering a range of modern amenities and infrastructure that cater to the needs of both locals and visitors. While still maintaining its natural charm, the island has undergone significant development in recent years, making it a comfortable and convenient destination. With reliable utilities, and a thriving tourism industry, Ambergris Caye provides a seamless experience for travelers seeking a balance between relaxation and modern comforts.
The Belize Barrier Reef
As the largest barrier reef in the Western Hemisphere, the Belize Barrier Reef is a UNESCO World Heritage Site that surrounds Ambergris Caye. It is a haven for marine enthusiasts and divers, offering awe-inspiring coral formations, an abundance of colorful tropical fish, and opportunities to explore incredible dive sites such as the Great Blue Hole.  Ambergris Caye is also a playground for water sports enthusiasts. Whether you prefer snorkeling  or deep-sea fishing, the crystal-clear turquoise waters at your doorstep during your Sunbreeze stay present endless opportunities for adventure and exploration.
Cultural Melting Pot & Delightful Cuisine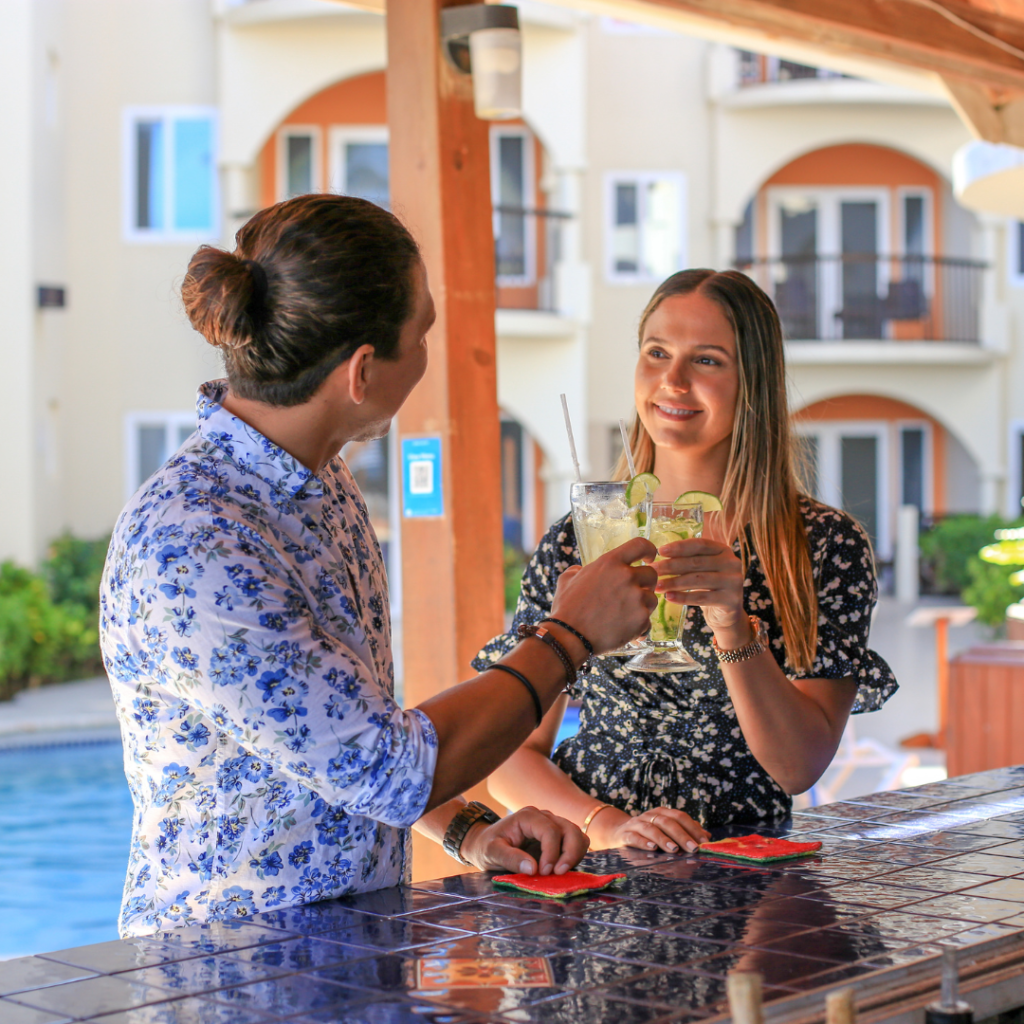 Ambergris Caye is a harmonious blend of cultures, boasting a rich mix of Mayan, Garifuna, Mestizo, and Creole influences. Embrace the local traditions throughout the island and learn about these cultures through food. Belizean cuisine is a fusion of flavors. Discover the gastronomic treasures of Ambergris Caye, ranging from fresh seafood delicacies to traditional dishes like stew chicken, rice and beans, and delicious fry jacks. Indulge in farm-to-table dining experiences and savor the tropical fruits that make Belizean cuisine so deliciously unique. Our location at SunBreeze Suites allows for exploring the food scene with ease, with many popular restaurants such as Elvie's Kitchen, Estel's by the Sea, Lily's Treasure Chest, El Fogon and much more just a short walk away from the hotel.
Golf Cart Culture
One unique aspect of Ambergris Caye is its reliance on golf carts as a primary mode of transportation. Visitors and locals alike navigate the sandy streets and trails on golf carts, creating  a fun-filled atmosphere. Renting a golf cart is a popular activity for exploring the island and its treasures at your own pace.
Overall, Ambergris Caye is a destination that worth visit. Whether you seek adventure, relaxation, or cultural exploration, Ambergris Caye promises an unforgettable experience that will leave you yearning to return.